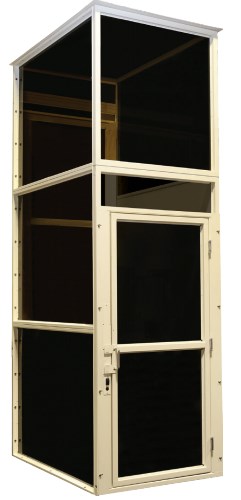 The AmeriGlide Enclosed Platform Lift is a unique mobility device that offers a fully surrounded and self-contained shaft, powerful and reliable performance and safety ratings that meet and exceed national standards. The steel frame houses acrylic panels that will protect you from the elements in the case of outdoors applications and provide a clean appearance whether installed inside or outside your home.
One of the many advantages of this model is that is has been specifically designed to be easy to install. The unit is meant to require as little assembly as possible, saving you both time and money when it comes to the installation process.
You can customize your lift by choosing from a long list of optional features including: a fixed ramp for smooth entry and exits, a power ventilation system, and a dome roof. Call today to learn more and get started measuring for your lift. Our experts are ready to answer all your questions and get you match up with all the best features to fit your needs.
Specs
Lifting Capacity

:

750 lb

Standard Lift Height

:

53"

Maximum Lift Height Upgrade

:

171"

Arrives Assembled

:

No

Drive System

:

Belt driven ball screw/90 VDC 1/3 hp motor with brake.

Battery Powered Option

:

Yes

Constant Pressure Platform Control

:

Yes

Emergency Stop Platform Control

:

Included

Alarm Button

:

Included, Optional Lighted Button

Keyed Platform Control

:

Optional

Call-Send Controls

:

(2) Non-Keyed

Optional Call-Send Controls

:

Keyed, Wireless

Platform Type

:

Solid with Non-Skid Coating

Platform Size

:

36" x 60" (34" Usuable)

Optional Platform Sizes

:

42"x 54" (34" Usable), 42" x 60" (40" Usable)

Platform Configuration

:

Straight-Thru Access

Guard Panel

:

42"

Lift Speed (FPM)

:

10

Portable

:

no
Product Reviews