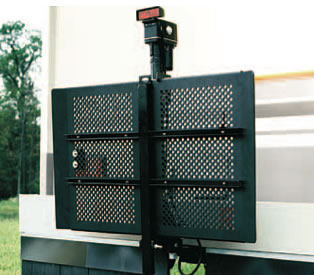 The Burr Mobile-Lift Motorhome Model is designed to provide quality dependable service for those who are mobility challenged. It can be used with both mobility scooters and electric wheelchairs.
Designed for use with motorhomes, this lift requires a Class III hitch and is powered from the motorhome's battery.
NOTE: Hitch Not Included
Specs
Lifting Capacity

:

300 lb

Lift Type

:

Scooter or Power Chair

Lift Weight

:

72 lb

Power Source

:

Vehicle Battery

Hitch Class

:

III

Maximum Hitch Height

:

21"
Product Reviews