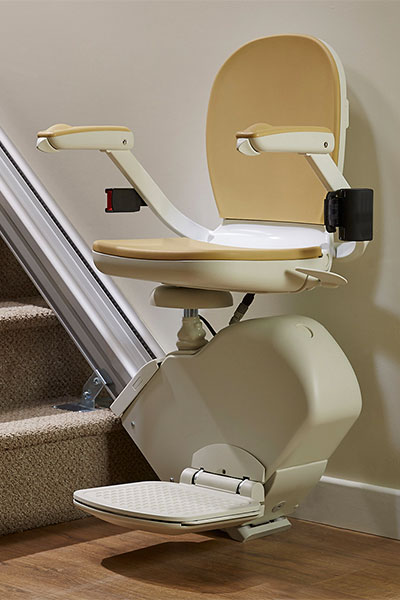 Looking for the best deal on an Acorn Stairlift? You've found it!
This model comes with the same warranty as a new Acorn Stairlift, but at half the price of other retailers. Call in today to take advantage of this huge bargain while it lasts.
A Used Acorn Stair Lift 130 offers battery powered operation that means it will run even if your home loses power. It comes with a folding seat, flip-up arms, controls built into the armrest, and a flip-up footrest.
280 pound weight capacity
Flip-up, swivel seat
Flip-up armrests
*CT, MI and WA residents need to check their local code laws to ensure proper compliance.
Specs
Drive Type

:

Rack and Pinion

Battery Powered

:

Yes

Self Installable

:

Yes

Basic Installation Included

:

No

Standard Capacity

:

280 lb

Max Track Length, Standard

:

7'

Max Track Length, Optional

:

15'

Track Material

:

Extruded Aluminum

Seat Depth

:

16"

Swivel Seat

:

Yes

Flip-Up Seat

:

Yes

Flip-Up Armrests

:

Yes

Constant Pressure Controls

:

No

Footrest Safety Sensor

:

Yes

Unit Footprint, Non Folded

:

22.5"

Unit Footprint, Folded

:

112.5"

Warranty

:

1 year parts only

Call Stations Included

:

Optional - Depends on inventory available

Digital Diagnostics Display

:

Yes

Key Lock

:

Yes
Product Reviews