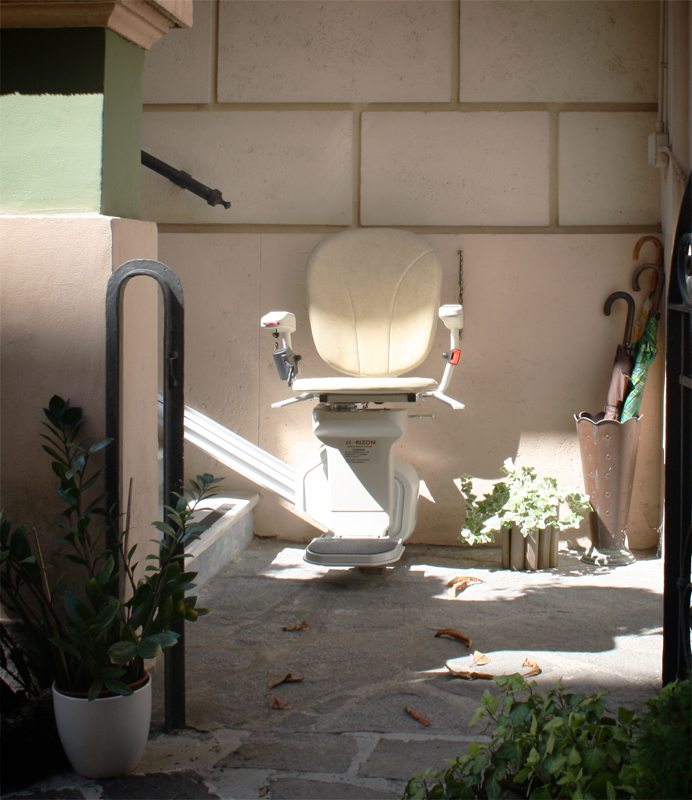 With the AmeriGlide Horizon Outdoor Stair Lift, anyone with mobility issues can enjoy safe and easy access to their home. This durable and affordable model is the perfect choice for straight outdoor staircases. All the vital electrical and mechanical components have been insulated and protected so that the lift can withstand the elements and continue to operate at an optimal level in any weather. In addition, this model comes standard with a protective covering so that your seat will always be clean, dry and ready to use.
The ability to overcome outdoor obstacles and regain your independence is right at your fingertips. User friendly joystick controls and infrared call and send remote controls make it simple to use your lift. Call us today to learn more and order your Horizon Outdoor Stair Lift.
*CT, MI and WA residents need to check their local code laws to ensure proper compliance.
Specs
Drive Type

:

Rack and Pinion

Battery Powered

:

Yes

Self Installable

:

Yes

Basic Installation Included

:

No

Standard Capacity

:

300 lb

Max Track Length, Standard

:

14.75'

Max Track Length, Optional

:

55.25'

Track Material

:

Anodized Aluminum Single Rail

Swivel Seat

:

Yes

Swivel Seat Rotation

:

Manual Swivel Seat

Flip-Up Seat

:

Yes

Flip-Up Armrests

:

Yes

Constant Pressure Controls

:

Yes

Footrest Safety Sensor

:

Yes

Unit Footprint, Non Folded

:

24.8"

Unit Footprint, Folded

:

13.5"

Call Stations Included

:

yes

Rail Angle, Min

:

25°

Rail Angle, Max

:

55°

Digital Diagnostics Display

:

Yes

Key Lock

:

Yes
Product Reviews