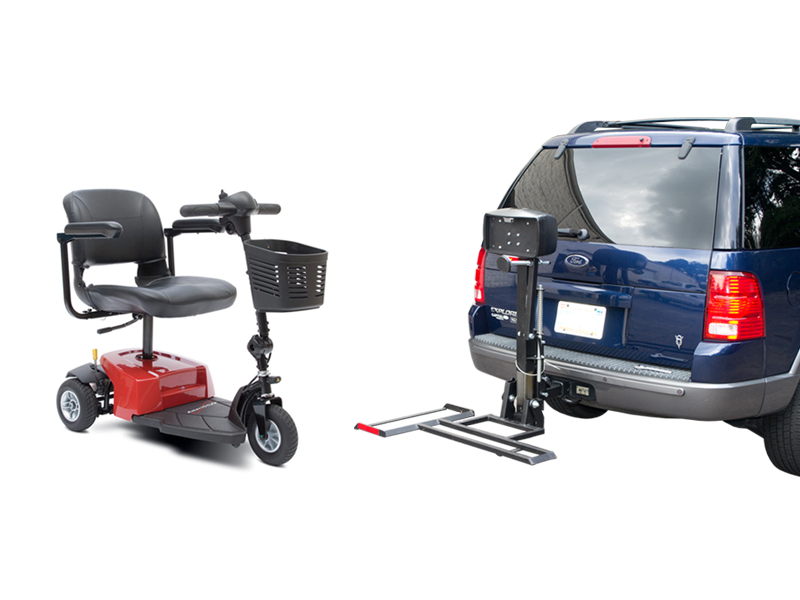 The AmeriGlide Traveler Companion Vehicle Lift/Scooter Lift Package is an unbeatable value that provides you with two lightweight and versatile mobility devices for the same price you would expect to pay for just one.
To start with, the AmeriGlide Traveler Companion Vehicle Lift is a compact model that is simply put, the most versatile model on the market. It features a sleek and streamlined design that takes up a minimal amount of space and comes with an open platform so that you don't have to settle for limited visibility out of your rear window. Best of all, this lightweight model is compatible with almost any vehicle or trailer hitch. From SUVs to compact cars, the AmeriGlide Traveler Companion Vehicle Lift can be installed on your vehicle!
The second component of this package is the Traveler Travel Scooter, which is perfectly suited for the Companion Vehicle Lift. This superior mobility device offers an ideal combination or power and portability. It is a super lightweight, 3-wheel option that is easy to maneuver and comes with long-lasting batteries that will allow you to travel several miles on a single charge!
We have simplified your shopping experience by offering this incredible package deal. Get both the mobility scooter and vehicle lift you need to increase your mobility and enjoy greater freedom today!
NOTE: Hitch Not Included
Specs
Scooter Weight Capacity

:

250 lb

Scooter Overall Length

:

37"

Scooter Overall Width

:

19.5"

Total Scooter Weight

:

77 lb

Max Lifting Capacity

:

150 lb

Hitch Class

:

I, II, III

Max Hitch Height

:

5"

Min. Hitch Height

:

18"

Folding Method

:

Automatic
Product Reviews