AmeriGlide Hercules II 750 Commercial Reconditioned Vertical Wheelchair Lift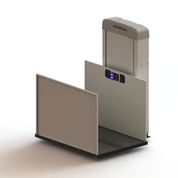 Our reconditioned program offers you a way to save on the cost of a vertical platform lift without compromising on quality. Our vertical platform lifts are reconditioned at the factory to ensure that they come to you as good as new.
The Hercules II 750 Commercial VPL offers a way to meet code without breaking the budget. Your visitors will be able to use the lift safely and securely for years to come. The included basic configuration package starts you off right, helping you meet code right out of the box. It comes standard with with an impressive 750 lb weight capacity and weather resistant switches and controls. It also comes with a larger platform and a max height of 171". The included alarm come with an Emergency Stop and 2 call/sends.
Specs
Lifting Capacity

:

750 lb

Standard Lift Height

:

53"

Maximum Lift Height Upgrade

:

171"

Arrives Assembled

:

No

Drive System

:

Ball Screw Drive

Optional Drive Systems

:

None Available

Battery Powered Option

:

Yes

Constant Pressure Platform Control

:

Yes

Emergency Stop Platform Control

:

Included

Alarm Button

:

Included, Optional Lighted Button

Keyed Platform Control

:

Optional

Call-Send Controls

:

(2) Non-Keyed

Optional Call-Send Controls

:

Keyed, Wireless

Platform Type

:

Solid with Non-Skid Coating

Platform Size

:

36" x 54" (34" Usable Width)

Optional Platform Sizes

:

36" x 60" (34" Usable), 42"x 54" (34" Usable), 42" x 60" (40" Usable)

Platform Configuration

:

Straight-Thru Access

Optional Platform Configurations

:

Same Side Entry-Exit, 90 Degree Adjacent Access

Upper Landing Gate

:

Optional

Upper Access Ramp

:

None Available

Lower Access Ramp

:

Fixed, Optional Automatic

Grab Rail

:

Included

Guard Panel

:

42"

Maximum Stops

:

3

Lift Speed (FPM)

:

10

Portable

:

Optional

Other Options

:

Fire-Rated Doors, Automatic Door Openers
Product Reviews