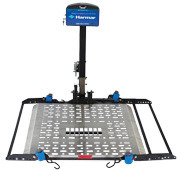 If you have a large mobility scooter or power wheelchair that you need to transport, the Heavy Duty Fusion Lift – XL is the perfect solution. This powerful lift comes with a spacious platform that can be extended to 53" and a 400 lb. weight capacity, making it one of the most versatile options on the market. The Fusion Lift is also incredibly easy to operate. A simple press of a button will allow you to control the lift and fold it up and out of the way and self-tensioning straps will secure your mobility device in just a matter of seconds. Make travelling easier than ever! Call and order your Heavy Duty Fusion Lift - XL.
Specs
Lifting Capacity

:

400 lb

Lift Type

:

Scooters or Power Chairs

Lift Weight

:

102 lb

Power Source

:

Vehicle Battery

Hitch Class

:

III

Maximum Hitch Height

:

18"
Product Reviews