AmeriGlide Hercules II 600 AC Residential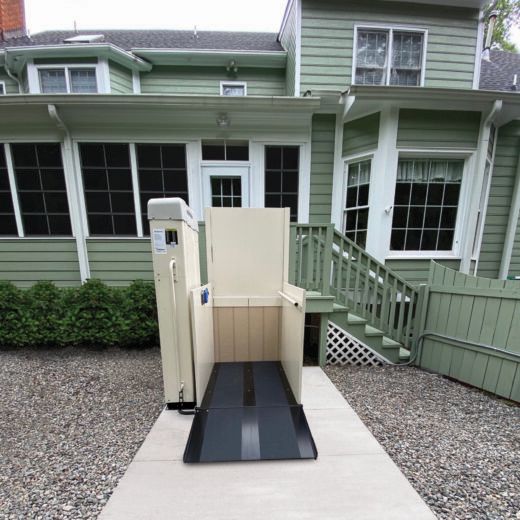 AmeriGlide's Hercules II 600 Residential Vertical Platform Lift comes standard with a solid platform. It supports up to 600 pounds and has a standard 4 foot lifting height with optional 6, 8, 10, 12 or 14 foot lifting heights available.
This reliable weather resistant porch lift includes many safety features such as an automatically folding ramp, safety pan, and more.
Specs
Lifting Capacity

:

600 lb

Standard Lift Height

:

53"

Maximum Lift Height Upgrade

:

77"

Arrives Assembled

:

No

Drive System

:

Acme Screw Drive

Optional Drive Systems

:

None Available

Battery Powered Option

:

Yes

Constant Pressure Platform Control

:

Yes

Emergency Stop Platform Control

:

Included

Alarm Button

:

None Available

Keyed Platform Control

:

Optional

Call-Send Controls

:

Optional

Optional Call-Send Controls

:

Non-Keyed, Keyed, Wireless

Platform Type

:

Solid with Non-Skid Coating

Platform Size

:

36" x 48" (34" Usable Width)

Optional Platform Sizes

:

36" x 54" (34" Usable)

Platform Configuration

:

Straight-Thru Access

Optional Platform Configurations

:

Same Side Entry-Exit, 90 Degree Adjacent Access

Upper Landing Gate

:

Optional

Upper Access Ramp

:

None Available

Lower Access Ramp

:

Automatic Folding, Optional Fixed

Grab Rail

:

Included

Guard Panel

:

36", Optional 42"

Maximum Stops

:

2

Lift Speed (FPM)

:

10

Portable

:

None Available

Door Access

: 38.5" Opening Required
Product Reviews