Stratos 600 AC Residential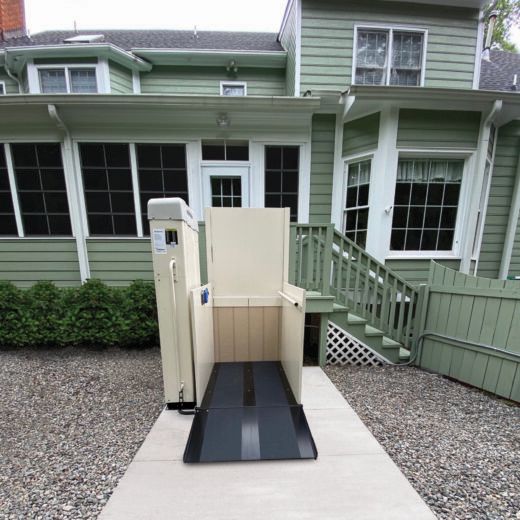 AmeriGlide's Stratos 600 AC Residential vertical platform lift will allow you to enjoy full access to all levels of your home. This powerful and versatile lift comes standard with a 600 pound weight capacity that can easily transport both you and your mobility scooter or power wheelchair.

The sturdy platform provides an automatic folding ramp, making it easy to enter and exit your vertical lift. Once the lift is in motion, the raised ramp will add extra stability and ensure that you are securely in place. An easily accessible constant pressure rocker switch makes operating your lift both simple and safe. Additional safety features include an emergency stop button, safety sensors that can detect obstacles, and a key lock for the controls.

Our vertical platform lifts are all relatively simple to self-install, but if you wish to speak with one of our experts about installation options, please give us a call. We're happy to help!

In addition, this residential lift is durable enough for outdoor installation. Weather resistant controls and sturdy construction mean that it can withstand even the harshest conditions and years of repetitive daily use. Contact one of our residential lift representatives to learn more about the Stratos 600 AC Residential vertical platform lift and how it can transform your life.
Specs
Lifting Capacity

:

600 lb

Standard Lift Height

:

53"

Maximum Lift Height Upgrade

:

77"

Arrives Assembled

:

No

Drive System

:

Acme Screw Drive

Optional Drive Systems

:

None Available

Battery Powered Option

:

Yes

Constant Pressure Platform Control

:

Yes

Emergency Stop Platform Control

:

Included

Alarm Button

:

None Available

Keyed Platform Control

:

Optional

Call-Send Controls

:

Optional

Optional Call-Send Controls

:

Non-Keyed, Keyed, Wireless

Platform Type

:

Solid with Non-Skid Coating

Platform Size

:

36" x 48" (34" Usable Width)

Optional Platform Sizes

:

36" x 54" (34" Usable)

Platform Configuration

:

Straight-Thru Access

Optional Platform Configurations

:

Same Side Entry-Exit, 90 Degree Adjacent Access

Upper Landing Gate

:

Optional

Upper Access Ramp

:

None Available

Lower Access Ramp

:

Automatic Folding, Optional Fixed

Grab Rail

:

Included

Guard Panel

:

36", Optional 42"

Maximum Stops

:

2

Lift Speed (FPM)

:

10

Portable

:

None Available

Door Access

: 38.5" Opening Required
Product Reviews