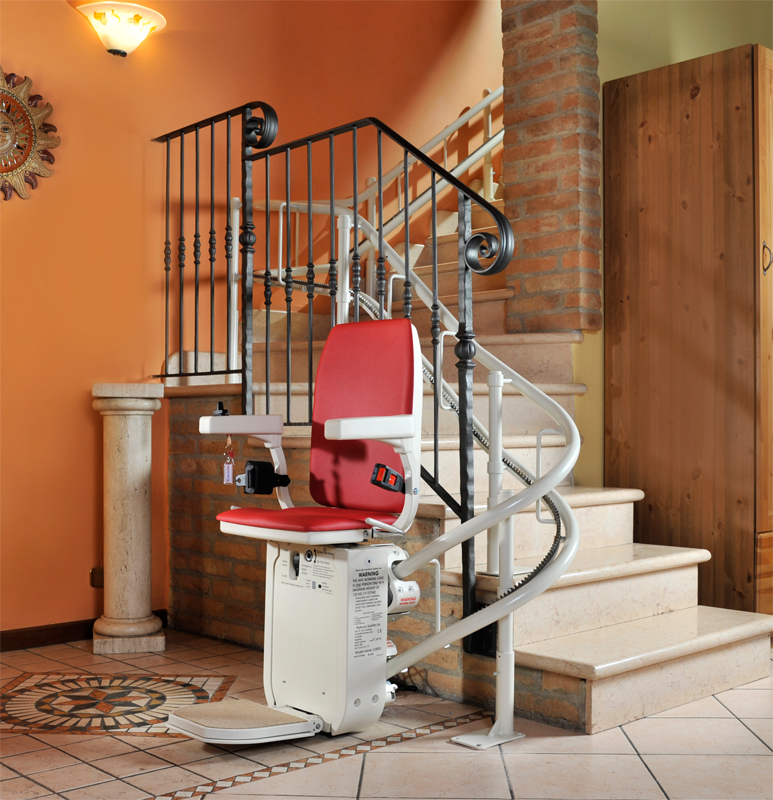 If you have difficulty managing your staircase, you don't have to limit yourself to one level of your home, even if you weigh more than 250 pounds. The AmeriGlide Platinum Curve Heavy Duty Stairlift is designed specifically for users who weight up to 352 pounds who need help on staircases that may have multiple landings, curves or even spirals. Custom-built to fit your staircase, this stairlift can generally be installed on the stair treads instead of the wall, which cuts down on mess and installation time.
It also won't interfere with your decor when installed this way. The covered feet provide a finished look, and your choice of upholstery colors lets you choose a color that fits well in your home's style. This great AmeriGlide stairlift is designed to be as unobtrusive as possible and take up a minimal amount of space, with a seat and footrest that fold up when not in use to leave more room on the stairs. With enough space, the lift can even be curved around so that the seat is parked off the stairs, thanks to its ability to handle 180-degree turns.
Enjoy your whole house again with the AmeriGlide Platinum Curved Heavy Duty Stairlift.
Check out the full installation video!
*CT, MI and WA residents need to check their local code laws to ensure proper compliance.
Specs
Drive Type

:

350W Rack and Pinion Drive

Battery Powered

:

Yes

Self Installable

:

No

Basic Installation Included

:

Yes

Standard Capacity

:

352 lb

Max Track Length, Standard

:

19'

Track Material

:

Twin Tube Steel Rail

Seat Width

:

21.3"

Swivel Seat

:

Yes

Swivel Seat Rotation

:

Top Only

Flip-Up Seat

:

Yes

Flip-Up Armrests

:

Yes

Constant Pressure Controls

:

Yes

Footrest Safety Sensor

:

Yes

Call Stations Included

:

Yes-Wireless

Digital Diagnostics Display

:

Yes
Curved Stair Lift Return Policy
Each curved stair lift must be custom manufactured to suit the unique requirements of the site. The unit is manufactured to the exact dimensions of the site application as determined by the digital survey and no two applications are alike. Lifts go into factory production immediately upon submission of the order to the factory which is after customer signs off on the CAD drawing. Accordingly, AmeriGlide has a substantial investment in resources and labor and as such we have a 25% cancellation fee for any order cancelled after the measurement survey but prior to submission for production, 50% once the lift is in production. Once a custom stair lift order has been shipped it cannot be canceled or returned. The shipment cannot be refused. No refund will be made for orders of this status.
Product Reviews