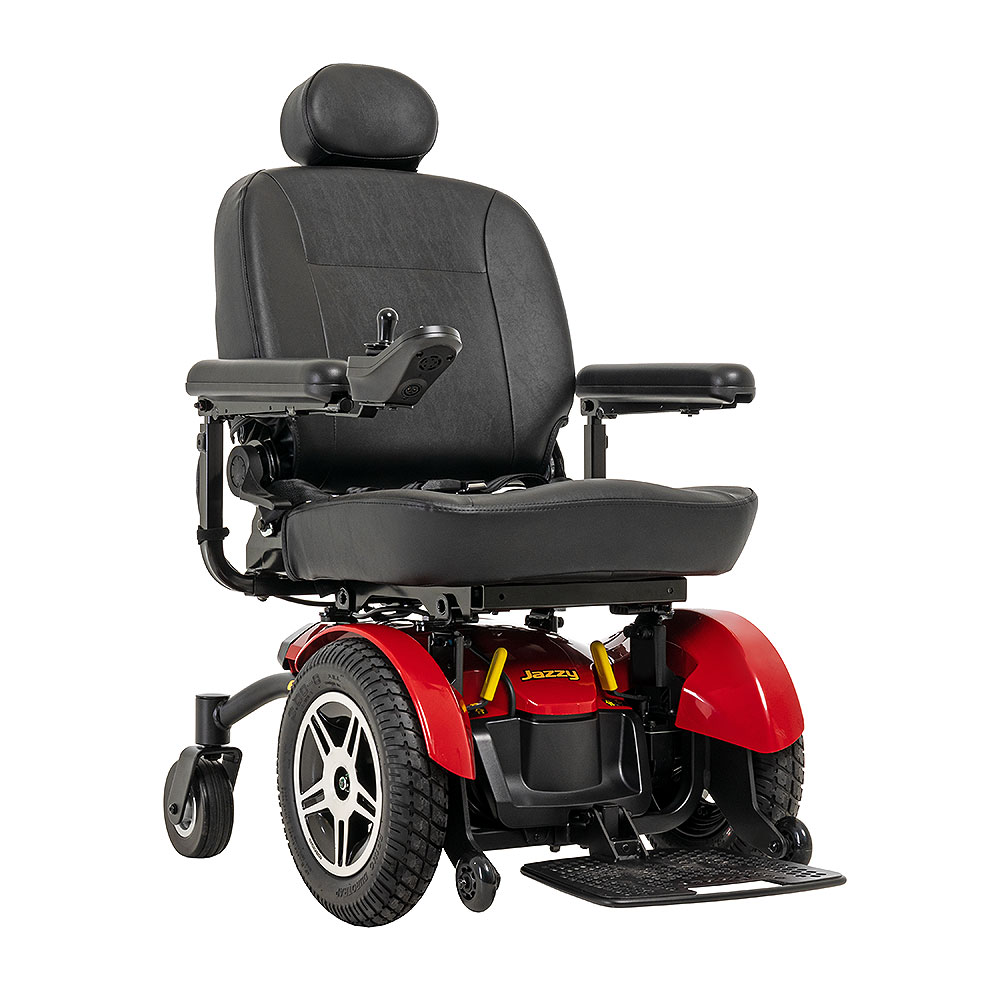 The Pride Jazzy 600 ES is compact enough for indoor use, yet powerful and stable enough to handle outdoor surfaces, making it the perfect model for everyday use. In addition, this power wheelchair features user friendly joystick controls that will allow you to navigate tight spaces with ease and front and rear caster for added safety and stability. You can overcome any obstacle and travel rugged terrain with ease!
Enjoy the superior comfort and performance of Pride products from an incredibly low price. Call us today to learn more about standard and optional features that can help you customize your power wheelchair.
Specs
Weight Capacity

:

300 lb

Overall Length

:

35.5"

Overall Width

:

24.5"

Range

:

17 mi

Top Speed

:

4 mph

Turning Radius

:

20.5"

Ground Clearance

:

2.75"

Weight, Total

:

176 lb

Weight, Base

:

124 lb

Weight, Seat

:

52 lb

Weight, Batteries

:

50 lb

Maximum Seat Height

:

20"

Drive Wheels

:

14 in., solid

Caster Wheels

:

Front: 6 in., solid Rear: 6 in., solid

Charger Type

:

5-amp, off-board

Battery Type

:

Two 12-volt, deep-cycle NF-22 batteries
Product Reviews
Jazzy 600

Oct 8, 2018 11:11 AM

Bill

from

Butler PA.

would not recommend this to a friend.

A Little About Myself

Disabled Male. 70 yrs. old

Pros

Look nice

Cons

Very little traction, front wheels are to big and scratch the furniture and bottom kitchen cabinets. I bang my ankles on the front wheels every time I use it.

I have an old Jazzy select that I use. The only time I use my new jazzy 600 is when I'm charging my jazzy select. I don't get hurt on my jazzy select like on the 600.
Great mobility

Sep 27, 2017 3:33 PM

Stanley

from

Western New York

would recommend this to a friend.

A Little About Myself

Care giver

Pros

Great maneuverability. Has enough power to safely climb short steep ramps. Charge lasts for days with two hour shopping trips. Controls are switchable from right to left side. Easy access to components. Adjustable seat. Adjustable speed to make cross the parking lots at a fast pace. Very stable.

Cons

Could use a power boost to "jump" door sill bumps etc.

Great chair and very reasonable in price. Mechanically sound. Well constructed.

14 of 14 people found this review helpful