Sanctuary Shower Enclosure Walk-In Tub, Small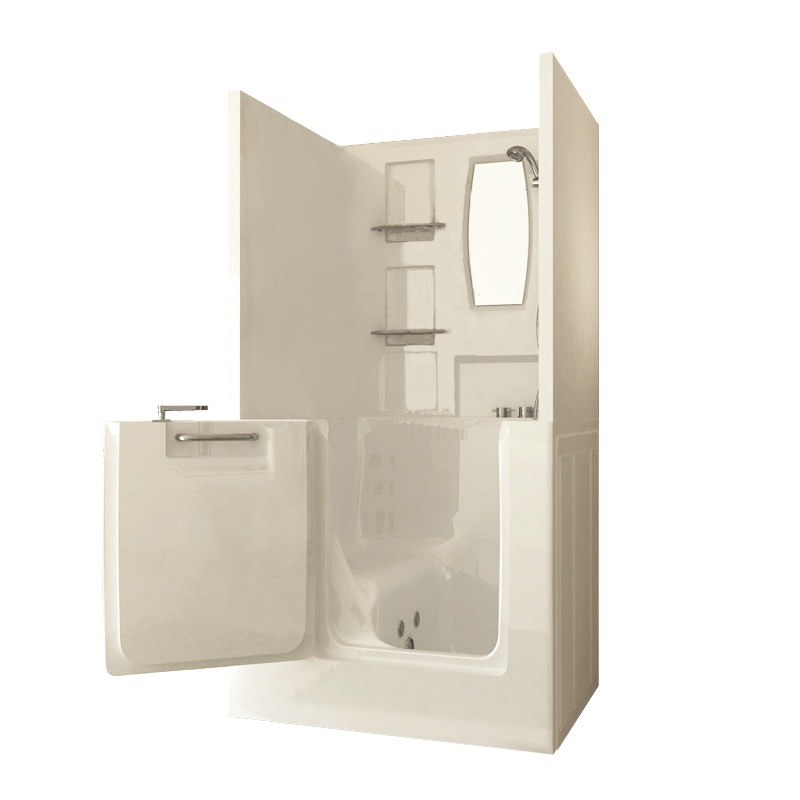 The Shower Enclosure line of walk in tubs from Sanctuary comes in both Small and Medium sizes. Their main feature, in addition to the quality acrylic tub, is an upper enclosure that sits on top of the tub, turning the tub into a dual bathtub / shower. Shower Enclosure walk in tubs truly give you the best of both worlds. The Small Shower Enclosure tub is small enough to be used in apartments, mobile homes, or in other situations where space is at a premium.
It is important to note that this tub requires framed walls on all enclosed sides. This tub is an easily installable industrial grade acrylic insert and not a free standing unit.
Specs
Door Type

:

Outward Swinging

Seat Height

:

15.5"

Step Height

:

7"

Tub Material

:

Industrial Grade Acrylic

Enclosed On

:

Front

Extension Panel Included

:

No

Faucets Included

:

Yes

Stainless Steel Frame

:

Yes

Grab Bar

:

Yes

Overflow Drain

:

Yes

Adjustable Leveling Feet

:

Yes

Water Jet Option

:

Yes

Air Jet Option

:

Yes

Dual Water & Air Jet Option

:

Yes

Size

: Tub, 31" W x 40" L x 38" T - 43 Gallons
Enclosure, 31" W x 40" L x 43" T
Product Reviews