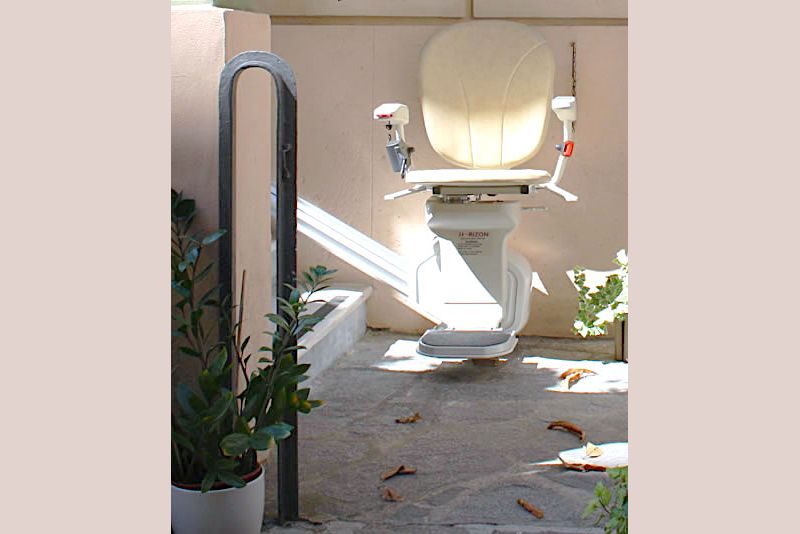 Don't let outdoor obstacles keep you indoors. Invest in an AmeriGlide Horizon Plus Outdoor Stair Lift and get back to enjoying your favorite activities again. This innovative model is easy to install and operate and is completely weather and waterproof. You will never have to worry about the elements damaging your chair or preventing your from accessing your home or outdoor spaces.
The Horizon Plus Outdoor Lift features an ergonomic joystick control that is located directly in the armrest, making it easing to reach and operate no matter what mobility limitations you face. A retractable seat belt and footrest with safety edge sensitivity that will stop the operation of your chair if it detects an obstacle combine to offer an unmatched level of safety.
But what really sets this model apart is that all of the electrical components and control boards are completely protected from dirt and water. It also comes with a waterproof cover for both the seat and carriage and a rubber foot mat that adds traction and further weatherproofs your chair.
Enjoy greater freedom and mobility in your outdoor areas. Call us today to learn more about how the AmeriGlide Horizon Plus Outdoor Stair Lift can improve your quality of life.
*CT, MI and WA residents need to check their local code laws to ensure proper compliance.
Specs
Drive Type

:

Rack and Pinion with OSG control

Battery Powered

:

Yes

Self Installable

:

No

Basic Installation Included

:

Yes

Standard Capacity

:

308 lb

Max Track Length, Standard

:

14.75'

Max Track Length, Optional

:

30'

Track Material

:

Aluminum Single Rail

Seat Width

:

17.7"

Swivel Seat

:

Yes

Swivel Seat Rotation

:

Powered - Top Only

Flip-Up Seat

:

Yes

Flip-Up Armrests

:

Yes

Constant Pressure Controls

:

Yes

Footrest Safety Sensor

:

Yes

Unit Footprint, Non Folded

:

24.8"

Unit Footprint, Folded

:

13.5"

Call Stations Included

:

Yes

Seat Width, Max

:

22"

Rail Angle, Min

:

25°

Rail Angle, Max

:

62°

Digital Diagnostics Display

:

Yes

Key Lock

:

Yes
Product Reviews