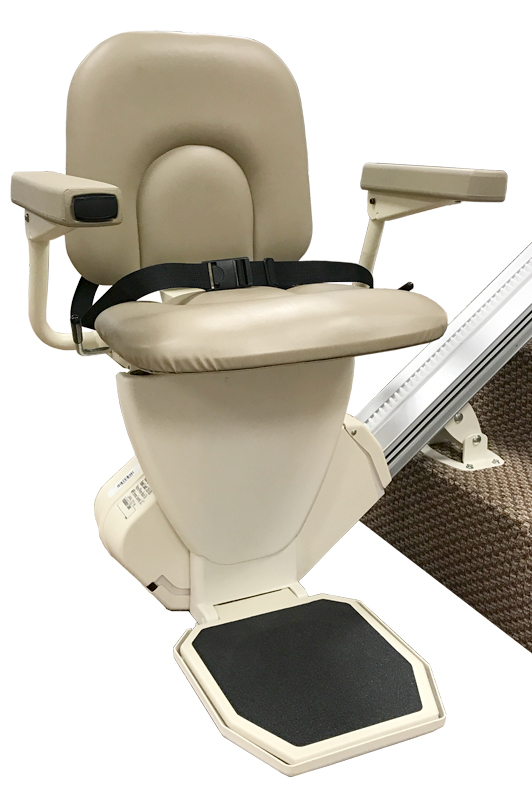 For the ultimate in convenience, durability, and safety on today's stair lift market, look no further than the AmeriGlide Rave! The Rave is designed to save homeowners valuable space on narrow stairways, taking up slightly more than 11 inches when folded up and leaving you plenty of room to walk by without worrying about tripping over the stair lift. Its impressive 350-pound weight capacity comes from a durable rack-and-pinion drive train encased in a sturdy metal chassis and powered by a battery which runs off any standard household outlet. The battery retains a charge, ensuring that you can safely transport yourself up or down the stairs even if you experience a power outage. AmeriGlide's usual attention to safety details is evident in the failsafe switches that prevent the Rave from traveling if its path is obstructed by any object. Every AmeriGlide Rave stair lift is made in the USA and backed by an unbeatable warranty!
**Please Note** The Rave's swivel seat only rotates 90° for top landing exit. It does not rotate for the bottom landing.
*CT, MI and WA residents need to check their local code laws to ensure proper compliance.
Specs
Drive Type

:

Polymer Worm / Worm-Rack

Battery Powered

:

Yes

Self Installable

:

Yes

Basic Installation Included

:

No

Standard Capacity

:

350 lb

Max Track Length, Standard

:

14.9'

Max Track Length, Optional

:

70'

Track Material

:

Aluminum

Seat Width

:

19"

Swivel Seat

:

Yes

Flip-Up Seat

:

Yes

Flip-Up Armrests

:

Yes

Constant Pressure Controls

:

Yes

Footrest Safety Sensor

:

Yes

Unit Footprint, Non Folded

:

22.5"

Unit Footprint, Folded

:

11"

Track Footprint

:

7"

Track Width

:

4.875"

Call Stations Included

:

Yes - Wireless

Digital Diagnostics Display

:

No

Power Cord Lengths

:

10' with the charger box in the middle

Key Lock

:

No
Product Reviews