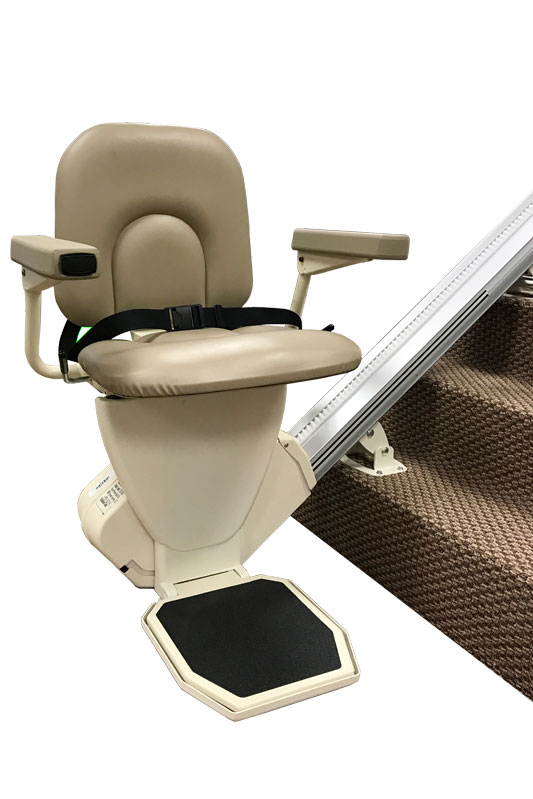 AmeriGlide's revolutionary Rave stair lift will change the way homeowners look at stairway mobility. Best of all, now you can get an AmeriGlide Rave stair lift for hundreds of dollars less than our normal retail price by buying a reconditioned model! Reconditioned Rave star lifts carry an unmatched warranty, and we guarantee them to be indistinguishable from a new unit! The Rave features a streamlined design that is perfect for narrow stairways, taking up less than a foot of space when folded up. A reliable rack and pinion drive system encased in an all-metal box is the hall mark feature of the Rave, with heavy-duty lifting power that can safely transport users weighing up to 350 pounds. Though the drive works off a battery, the unit must still be plugged in and is compatible with any standard household outlet. A reserve charge is stored in the battery to ensure that you can get to safety in the event of a power outage. The Rave's track system mounts to your stairs, not your wall - and every point of contact uses a single bracket to keep installation simple!
Every AmeriGlide Rave is made in the USA, so call today to order your premium American-made stair lift!
**Please Note** The Rave's swivel seat only rotates 90° for top landing exit. It does not rotate for the bottom landing.
*CT, MI and WA residents need to check their local code laws to ensure proper compliance.
Specs
Drive Type

:

Polymer Worm / Worm-Rack

Battery Powered

:

Yes

Self Installable

:

Yes

Basic Installation Included

:

No

Standard Capacity

:

350 lb

Max Track Length, Standard

:

14.9'

Max Track Length, Optional

:

70'

Track Material

:

Aluminum

Seat Width

:

19"

Swivel Seat

:

Yes

Flip-Up Seat

:

Yes

Flip-Up Armrests

:

Yes

Constant Pressure Controls

:

Yes

Footrest Safety Sensor

:

Yes

Unit Footprint, Non Folded

:

22.5"

Unit Footprint, Folded

:

11"

Track Footprint

:

7"

Track Width

:

4.875"

Call Stations Included

:

Yes-Wireless

Digital Diagnostics Display

:

No

Power Cord Lengths

:

10' with the charger box in the middle

Key Lock

:

No
Product Reviews